BIC GROUP Search Japan
Delivering a comprehensive Recruitment Services and HR Solutions across the Healthcare industry.
WHAT WE DO
Executive Search
bicjob.com
Interim Management
Human Resources Solutions
Recruitment Process Outsourcing (RPO)
Employer Of Record (EOR) Services

BIC GROUP Search has an excellent reputation for placing executives and next generation leaders in healthcare companies in Japan and internationally since 2006.
The group specializes exclusively in the pharmaceutical, medical device, diagnostics, life science, consumer health and related healthcare industries. We conduct senior-level searches in all the functions across the healthcare industry.  Read more about our group 
For Candidates
What Are Your Career Aspirations?
Candidate Executive Search Services
We appreciate your interest in registering as a candidate with BIC GROUP Search.
Our accomplished Best In Class team, with a track record of placing candidates in a range of roles, spanning from startups to industry-leading multinational corporations within the healthcare sector, assures you of dedicated support in identifying the perfect match.
Kindly click on the "Get In Touch" button below and provide us with your details.
Your privacy is paramount to us, and we guarantee the confidentiality of your information; it will never be shared without your special approval. Furthermore, all received resumes will undergo thorough review, and our dedicated consultants will be in touch with you shortly to discuss the next steps.
MEDICAL DOCTORS (MDs) SEARCH
At BIC MD Search, we pride ourselves on our stellar reputation for successfully placing talented medical doctors (MDs) in leading pharmaceutical, biotech, and medical device companies.
Executive Search for Medical Doctors, LEARN MORE
Whether you're a seasoned pharmaceutical or medical device MD seeking new avenues for professional growth, or a physician intrigued by non-clinical career opportunities, our dedicated team of professionals is here to guide you toward the ideal career path.
Our consultants possess profound insights into the unique demands of client companies within the medical industry. We are well-versed in the various roles available for medical doctors, and we understand the critical importance of matching your skills and aspirations with the right positions. Some of the non-clinical career options that we specialize in include:
Pharmaceutical & Medical Device: Roles in safety (pharmacovigilance), medical affairs, clinical research, development, regulatory affairs, and medical marketing.
Occupational Health: Opportunities that focus on workplace health and safety.
Consulting: Leveraging your medical expertise to provide valuable insights and guidance to healthcare organizations.
If you are eager to explore new horizons and seek growth in your medical career, don't hesitate to get in touch with us. Discover how BIC MD Search can become a valuable partner in shaping your professional journey.
New to the Industry?
We extend a warm welcome to individuals who are new to the pharmaceutical, medical device, biotechnology, and diagnostics industries. Feel free to reach out to us for general inquiries or more specific career advice tailored to your aspirations within these dynamic sectors. Our team is committed to helping you navigate the intricate landscape of healthcare industries and make informed decisions about your future.
Contact us today to embark on a transformative journey in your medical career.
LEGAL SEARCH
BIC Legal Search Practice has an excellent track-record of placing attorneys and legal professionals to healthcare corporations and leading law firms.
Executive Search for Legal Professionals LEARN MORE
Welcome to BIC Legal Search Practice, where excellence meets opportunity. With a proven track record, we specialize in connecting top-tier attorneys and legal professionals with healthcare corporations and prestigious law firms. Our expertise spans all levels, from newly-qualified attorneys to general counsels and senior partners. Contact us today to explore our positions and discover how BIC can elevate your legal career.
Why Choose BIC Legal Search Practice?
Proven Success: Our track record speaks volumes. We have a history of successfully placing legal professionals in positions that align with their skills and aspirations.
Diverse Opportunities: From entry-level roles to leadership positions, we offer a wide range of opportunities in healthcare corporations and leading law firms.
Interim Solutions
The BIC Interim Management Solutions offer flexible, temporary assignments for attorneys across private practice and in-house legal teams. Whether you're seeking short-term engagements or interim opportunities, our network can connect you with the right assignments.
Ready to take the next step in your legal career? Contact us today to explore the possibilities and discover how BIC can be a valuable asset on your career journey.
For Clients
Hire The Leaders For What's Next
Client Executive Search Services
Thank you for visiting our website and your interest in BIC Executive Search Consulting Services.
Our Best In Class (BIC) team has a proven track record filling numerous positions from startups to leading multinational corporations across Pharmaceutical, Biotechnology, Medical device, Diagnostics IVD, Life science and Consumer health industries.
Every candidate in our database is interviewed and fully screened to verify their skill set. Our interview questions are designed to verify scientific knowledge of the field, language skills, leadership skills & leadership potential, presentation skills, and motivation.
Our focus is on delivering the best possible services and successful outcomes to our clients. Each service is customized to meet the unique needs of each client. So please contact us to learn more or to begin your search with BIC.
This option is highly recommended when seeking to fill your most crucial senior level executive positions.
Exclusive Contingency Searches
This option is for hard-to-fill positions. This is a cost-effective method which is exclusive to clients who only work with the BIC GROUP. We recommend this option to our clients who are looking for very serious/difficult positions. This is a Tailor-Made search.
This option is for companies that want to see a range of qualified candidates with whom we are currently working with, but not necessarily filling a specific position.
This option is recommend if you have a number of similar positions to fill, in a cost effective method.
Please click on the "Get In Touch" button below and fill in your information.
Job Board  (Comming soon!)
bicjob.com stands as a premier healthcare job board, specializing in roles within the pharmaceutical, medical device IVD, diagnostics, life science, consumer health, and related sectors.
Bicjob.com brings together the top-level healthcare companies and top-level job seekers in one place.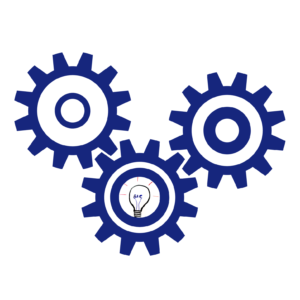 BIC Interim Management provides interim management solutions for all functions across the pharmaceutical, biotechnology, medical device, diagnostics, life science, consumer healthcare and related industries.
What is BIC Interim Management
Interim management is a temporary assignment done by highly experienced, hands-on executives with specialist skills and proven track records.
Our Consultants
Our consultants are experienced executives with a broad range of management function experience, including R&D, commercial and operations.
Why Interim Management
Crisis management (period of transition, illness etc.)

Change management

Lack of in-house expertise in a particular area

Quick and consistent

No high fixed costs

Knowledge transfer to your team
Our Database
BIC maintains an extensive healthcare industry focused professional database and extensive network of contacts among industry executives. We have highly skilled executives willing to work on a project consulting basis.
If you're an experienced professional and are looking for an Interim Management position, please visit our "Join our team".
 *We also provide interim-management services to investors and financial institutions to evaluate their investments in the healthcare business.
Human Resources Solutions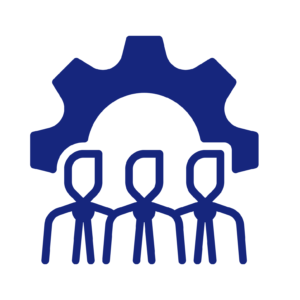 We provide high quality, cost effective human resources management solutions to the pharmaceutical, medical device and life science companies. Our professional Human resources consultants have decades of experiences in the healthcare industry. Our team is committed to finding real-world solutions to our client's complex HR challenges to improve their bottom-line result.
We offer customized consultancy services which include the following:
Human resources management

Employee Relations

Training & Development

Healthcare Recruiting

Compensation and Benefits

Organizational design and restructuring
Recruitment Process Outsourcing (RPO)
In today's competitive job market, finding and hiring the right talent is crucial for the success of any organization. However, managing the entire recruitment process can be a complex and resource-intensive task. That's where BIC GROUP Search steps in as your trusted partner for Recruitment Process Outsourcing (RPO). 
Our Comprehensive Approach:
At BIC GROUP Search, we understand that the recruitment process encompasses a wide range of activities, from job posting and candidate sourcing to interviewing, screening, and onboarding. Our RPO services are designed to cover all aspects of recruitment, ensuring a seamless and efficient hiring process for your organization.
 Key Benefits of RPO with BIC GROUP Search:
Cost-Efficiency: By outsourcing your recruitment needs to us, you can significantly reduce recruitment costs associated with in-house staffing, advertising, and technology investments.
Our RPO Process:
Initial Consultation: We start by understanding your organization's culture, values, and specific hiring requirements.
Customized Solutions: Based on your needs, we tailor a recruitment strategy that includes job profiling, candidate sourcing, assessment, and onboarding processes.
Candidate Sourcing: We employ a multi-faceted approach to attract and engage top-tier candidates through job boards, social media, networking, and our extensive database
Screening and Assessment: Our rigorous screening and assessment processes ensure that only the most qualified candidates move forward in the selection process.
Interviewing and Selection: We coordinate interviews, facilitate candidate feedback, and assist in the final selection of candidates.
Onboarding: We ensure a smooth transition for new hires, making their integration into your organization seamless.
Why Choose BIC GROUP Search for RPO?
With over 17 years of experience in recruitment and a proven track record of success, BIC GROUP Search is your partner of choice for Recruitment Process Outsourcing. We are committed to helping your organization find, hire, and retain the talent you need to thrive in today's competitive landscape.
Ready to Elevate Your Talent Acquisition Strategy?
If you're looking to enhance your recruitment process, reduce costs, and gain a competitive edge, BIC GROUP Search is here to assist you. Contact us today, and let's discuss how our RPO services can transform your hiring practices and drive your organization's success.
BIC GROUP Search RPO services exclusively tailored for healthcare clients.
Employer Of Record (EOR) Services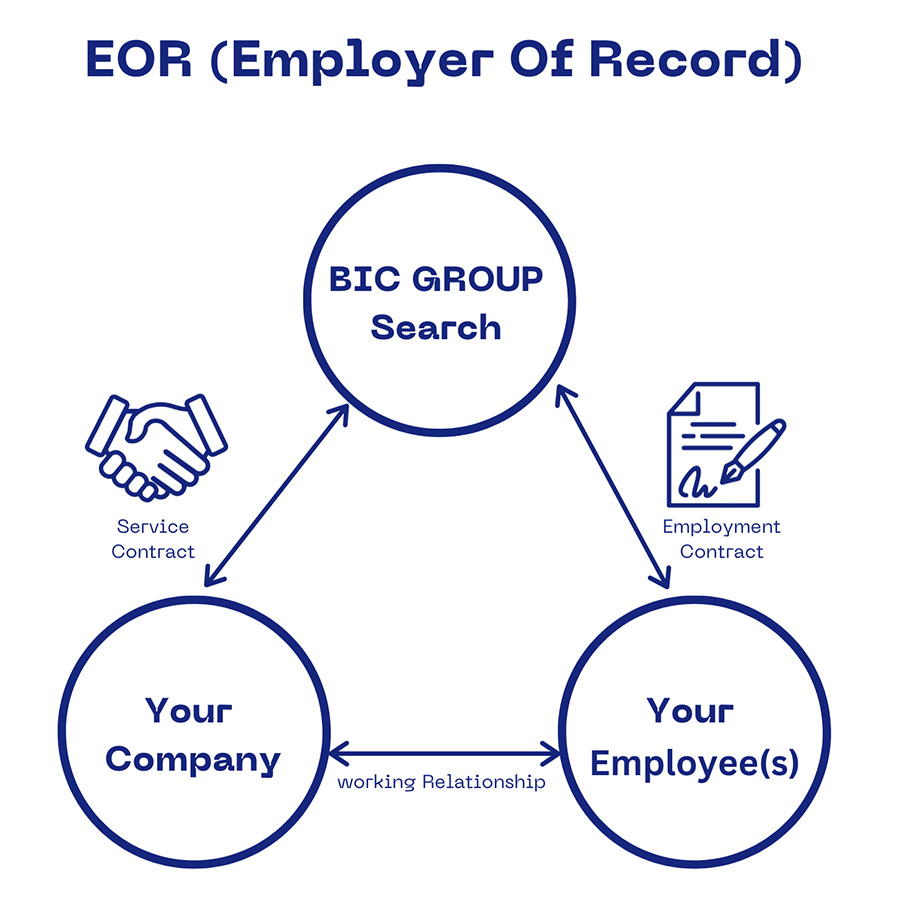 What is BIC EOR?
In the dynamic landscape of international business, expanding your company's global footprint can be a rewarding endeavor. However, it often comes with the challenge of navigating complex labor laws and regulations, especially in countries like Japan. This is where BIC's EOR (Employer of Record) services come into play.
Simplified Employment in Japan with BIC EOR
BIC EOR specializes in simplifying the complexities of Japanese employment. With BIC EOR, we take on the legal responsibilities related to hiring and compensating your workforce in Japan. Our all-inclusive services cover everything from handling employee taxes to providing benefits and insurance. Our deep knowledge of Japanese labor laws ensures your company stays compliant while you focus on your core business goals.
 Why Choose BIC EOR?
Comprehensive Solution: Covers all aspects of employee management, from onboarding to payroll, taxes, benefits, and compliance.
Expertise: Our team comprises seasoned professionals well-versed in Japanese labor laws, reducing risks and ensuring compliance.
Complementary Services: We also provide comprehensive recruitment solutions and Japan representation services.
Experience the Difference
Incorporate the power of BIC EOR into your global expansion strategy. Let us handle the complexities of Japanese labor laws while you focus on propelling your business forward. Together, we can unlock new growth opportunities in the Japanese market, making your international expansion a seamless and efficient journey.
Choose BIC EOR and embark on a path to success in Japan with confidence.